Winter can be hard at the best of times, but we're all feeling the bitter winds and dark nights a lot more now as lockdown continues on. But as we do our bit to help by staying indoors, our mental health and wellbeing can be worn down. Here's a list of 19 easy self-care tips for winter lockdown that you can start today – even if you just fancy staying in your pj's!
Creating a calm environment
Stress and anxiety levels are easily affected by the environment that surrounds us. Our homes and gardens (if we're lucky enough to have them) should be the place's that we feel the most at easy and comfortable. They should be our little oasis of calm that help us stay grounded and centred.
Here are a few tips and ideas to help you make the most out of your space, and help you create a more peaceful and calming sanctuary which will in turn nourish your soul.
1. A little tidy goes a long way
It goes without saying that living in a clean and clutter-free space is bound to make you feel more relaxed, so have a go at clearing or tidying any areas that may be niggling at you. Even if it is just a few things each day. Whatever you can manage will help you feel more organised and in control.
2. Light some candles.
On a freshly tidied table or unit, (carefully) light some candles or add some fairy lights to your room to help create that cosy atmosphere. Gentle flickering light is said to have a meditative effect so make this part of your relaxation ritual – just be careful not to fall asleep with any candles burning!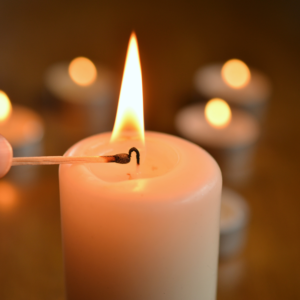 3. Listen to relaxing music.
Putting on a lo-fi soundtrack or listening to your favourite chill playlist is a great way to wind down. Research has shown that music can not only lift your mood but also fend off depression, regulate emotions and ease pain. Just be mindful of the tracks you choose to press play on however, as loud, frenzied, and up-tempo music can have the opposite effect.
If you haven't got a soundtrack of your own why not check out the abundance of relaxation tracks on YouTube. I like listening to this Beautiful Relaxing Music for Stress Relief channel. Not only are the sound relaxing, but the comments are worth a read too, there's a lot of love being shared on there.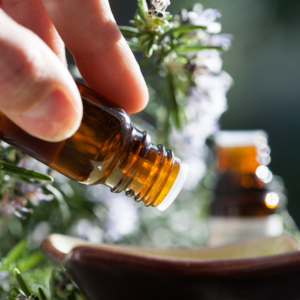 4. Burn some incense or essential oils
Different fragrances can have various effects on the way the mind and body reacts and our sense of smell is also very stimulating to mood. Burning essential oils of your favourite smells can also have a profound effect of recalling happy memories as well as reducing stress levels and feelings of anxiety.
The most well-known essential oils related to stress relief are:
Lavender oil
Chamomile oil
Jasmine oil
Vetiver oil
And Rose oil
Try adding a few drops of your chosen scent to your oil burner and let the gentle aromas do the stress relieving for you.
If you don't have an oil burner why not check out our Mother's Day gift guide here. There's a gorgeous hand thrown oil burner on the list as well as some handmade aromatherapy wax melts to get you started!
5. Buy yourself flowers
I love having fresh flowers on display and I regularly buy flowers during the winter months (when my garden is sleeping) to add a touch of colour and cheer to my home. Next time you're getting your shopping, take a look and see what flowers are available to buy. Even a little bunch can really brighten your day.
Food for the soul
Eating well and keeping hydrated is an essential part of staying healthy. When winter comes round and the days are colder, we usually move towards the more seasonal and comforting foods like hearty soups and slow-cooked stews.
Here are a few self-care tips to try during winter lockdown that are perfect for warming your soul.
6. Make a pot of soup
The actions of cooking can be calming and fulfilling if you take your time and don't rush the process. Making a meal, or even a pot of soup from scratch will activate feelings of accomplishment, plus you'll have a hearty and healthy meal to fuel you after too.
7. Bake some tasty treats (minus the guilt)
We all need to treat ourselves from time to time, and it's true that home-made is always best (well, most of the time!) The trick to baking and enjoying treats at home is to stop the feeling of guilt that you give yourself after. Even if you eat 2, 3 or all of the cookies, don't be hard on yourself. Life's tough enough!
8. Make yourself a hot drink and snuggle under a blanket.
Hot chocolate, warm milk and honey, or hot water and lemon are all great beverages to enjoy on a cold night. But whatever your favourite brew is, it always tastes better when you're snuggled under a cosy blanket.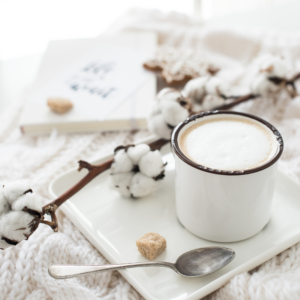 Self-Care Activities
Remember that blanket we mentioned? Well you're going to need it again here! Here are some cozy self-care tips for those long winter nights.
9. Movie night
Gather up some snacks and another hot drink and settle under your blanket to watch your favourite film.
Little tip: If you're trying to relax, maybe skip the scary movies and pick a romcom or your favourite Disney instead!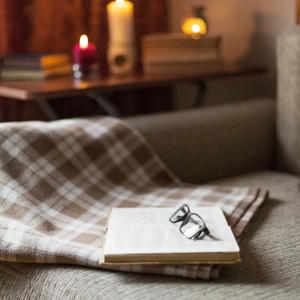 10. Get lost in a book
Want to escape the real world for a bit? Then dust off that pile of books you said you'd start and get reading. And of course, bring your blanket.
11. Start a craft (this can also be done while you're cosy under your blanket)
Whether it's knitting, sewing, or painting, crafting is a great way to learn new skills or explore a hobby you've had for a while. Also, there's something really therapeutic about repeating motions (knit, purl, knit, purl, knit, purl) and of course, that sense of achievement when you make something yourself – priceless.
12. Venture Outside
Need a break from the blanket, or just want some fresh air? Then wrap up warm and head out for a stroll.
Spending time outdoors, especially in green spaces, is incredibly good at relieving stress levels. While you're out and about, take time to look around you. What animals, birds or insects can you see or hear? What colours are really standing out to you? Can you smell the trees, damp leaves or chill in the air? That's nature baby!
Body and Mind
Taking time to care for your mind and body is so incredibly important that it should be done every day. Even if you are low on time or feel like you don't have the energy to add more into your routine, I promise that these little steps will make a big difference. Seeing every day tasks in a different light can show you that you do have time for self-care and that you can fit in a little bit of 'me time' into every day living.
13. Have a hot bath or shower
After a long day there can be nothing better than taking time to soak in a hot bath or treating yourself to a pampering shower. Using natural products will help protect your skin from harsh chemicals and many come with added essential oils which will aid your home-made spa experience.
Self-care tips for Winter no.
14. Treat your feet
If you don't fancy spending ages in the bath, then why not create an at-home foot spa! Use an old basin to fill with your favourite bubbles and hot water (be careful not to scold yourself) and get soaking. I love adding Epsom salts with added lavender or eucalyptus to my foot soaks for those extra added essential oil benefits.
15. Do your nails
Making the effort to pamper yourself, even if it is just filing your nails, really makes a difference to how you feel. Get you nail file out, moisturise your hands (and feet!) and even crack out your favourite nail polish. Plus, it's a great time to try out new nail colours too!
16. Give your skin some love
Winter is the harshest season on your skin in terms of dryness. Facing the cold, day in and day out, and then plunging ourselves into central heated homes plays havoc with our skin and it's natural balances. Take the time each day to moisturise and nourish your skin, from head to toe, using your favourite face and body lotions. Your skin will thank you for it.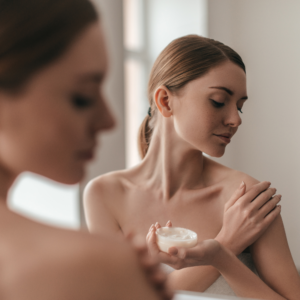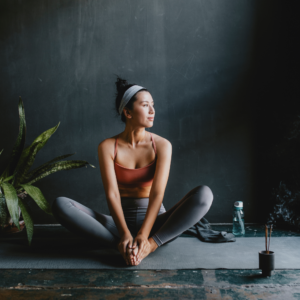 17. Do some gentle yoga
I like to take time to do some gentle stretches in the morning. It's a great way to ease you into the day and get the blood flowing after a night's rest. It also helps to warm you up and can ease out any stiffness that may have caused you problems later in the day.
Practicing some gentle yoga and relaxation techniques before bed can also help you slip into a more relaxed state which in turn can helps you get a more restful and deeper night's sleep.
18. Get an early night
Taking of sleep, we all need a good amount of it if we're able to function properly am I right? Sleeping more and feeling more tired in the winter is normal, especially if you live in the Northern Hemisphere and the nights are LONG! Plan an early night, take time to get ready for bed, and let your body get the sleep that it needs. You'll feel better in the morning.
The last of our self-care tips for winter is –
19. Be kind to yourself
Out of this entire list, this is by far the most important rule when it comes to self-care. We all have a tendency to be hard on ourselves, especially when we are feeling low. So give yourself a break. Take a moment, every day, to say out loud 3 things that you like about yourself, are happy for or that you did well that day. I find this works particularly well if you say it in front of a mirror. It may sound silly, but you are directing these positive thoughts to yourself, no one else, so don't be shy. And at the end of your little chat, remember to smile, you made it through another lockdown day.